What the Pros Would Do at the 2016 Cabela's Collegiate Big Bass Bash Presented by Berkley
By Cody Levy
In my years of trying to grow and learn in the sport of fishing, I've been fortunate to talk with a few of the top anglers in nation. One question I've always asked is "what makes success?" The most common answer I've received has been "when preparation meets opportunity." So in order to try and give all anglers the best chance of success, two of Berkley's top pros, Gary Klein and Josh Bertrand have offered some advice on how you can prepare for the Cabela's Collegiate Big Bass Bash Presented by Berkley.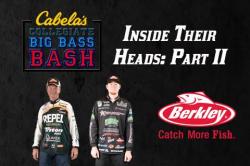 "Depending on what the current weather trend has been and the water level is, the bass should be 'staging' as we call it, prior to the spawn. I would focus my time fishing lead ends, like channel swings inside the bays and secondary points," said Klein. "A 3/4oz football jig with Chigger Craw trailer, a Carolina rig with Boss Dog green pumpkin/black tail, and a 110 Cutter with a long pause between movement would be my go-to's. If the water level is above full pool I would spend my time in the bushes, flipping a black/blue jig with black/blue Chigger Craw trailer or a Berkley Change-Up in green pumpkin or black/blue."
Continuing on a flooded lake situation, Bertrand added that if the lake is above normal pool, head for cover.
"If the water is up at all, I would be looking for flooded bushes to flip with a 4″ Pit Boss. Especially if there is any kind of warming trend, the fish should be racing into the bushes," said Bertrand. " If the weather is cold or if the water is not up in the shallow bushes, I would back off to the first drop-off from the spawning flats and throw a Cutter or Warpig through these pre-spawn areas. Fish can move a lot this time of year depending on weather patterns, so it may change day to day!"
Anglers can find all of the baits listed above at www.berkley-fishing.com
To see complete results from last year and to watch the full episodes from the 2015 Cabela's Collegiate Big Bass Bash Presented By Berkley, visit www.CollegiateBassChampionship.com
About the ACA
The Association of Collegiate Anglers, a division of Careco TV, is a sanctioning body developed to facilitate growth, development, and structure within competitive collegiate bass fishing. The ACA provides support to dozens of school operated regional events nationwide and owns the Cabela's Collegiate Bass Fishing Series, the largest participatory collegiate tournament circuit in the country. With dedicated collegiate fishing programming on several television networks, three nationally televised collegiate bass fishing events, and thousands of members, the ACA is the leader in competitive collegiate bass fishing. For more information on the ACA, or the Cabela's Collegiate Bass Fishing Series, visit www.CollegiateBassChampionship.com. For more information on Cabela's visit Cabelas.com, for more information on CarecoTV, visit www.carecotv.com.
https://www.collegiatebasschampionship.com/wp-content/uploads/2016/06/CBFC_Button-e1480444540195.png
300
300
Shelley
https://www.collegiatebasschampionship.com/wp-content/uploads/2023/03/2022_CBFS_JM-White-300x194.png
Shelley
2016-03-07 15:18:34
2016-11-22 15:42:00
What the Pros Would Do at the 2016 Cabela's Collegiate Big Bass Bash Presented by Berkley