Live Blog: October 9 – Practice Day

October 9, 2020 – 3:10 PM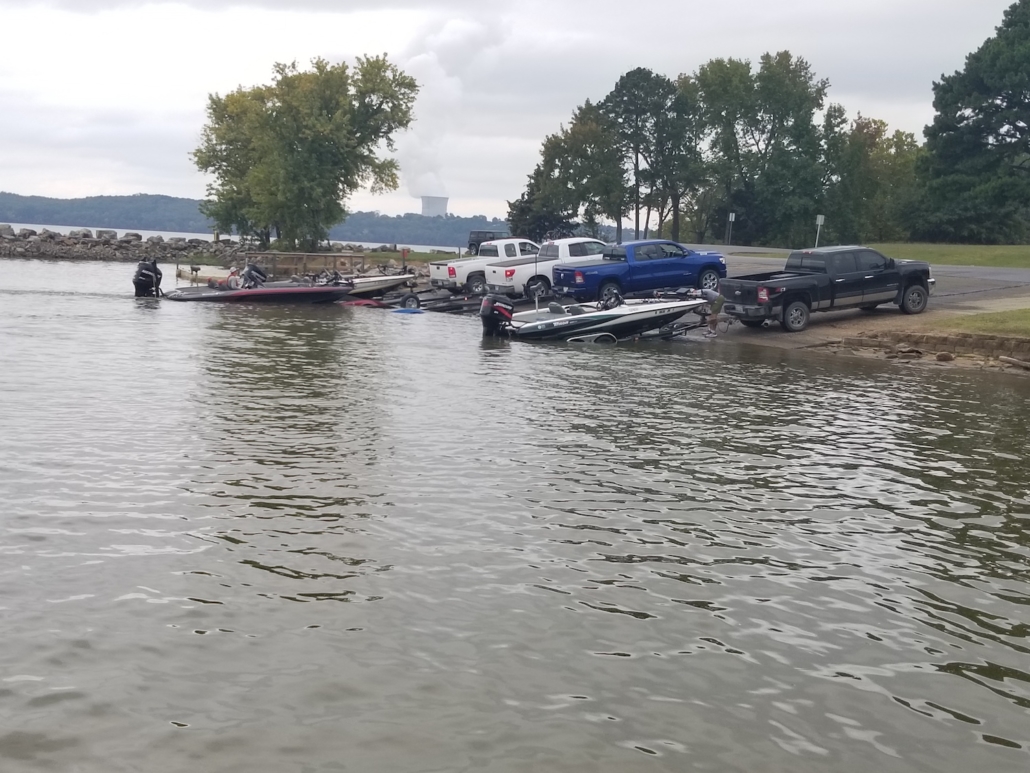 Official practice is complete for the 2020 AFTCO Collegiate Bass Open.  Teams are loading up and going back to make final preparations for Day 1.
October 9, 2020 – 2:50 PM
Tonight's tournament meeting will be conducted via Zoom at 6:00 PM.  Be sure to check your email and text messages to find the link to the meeting.
October 9, 2020 – 2:25 PM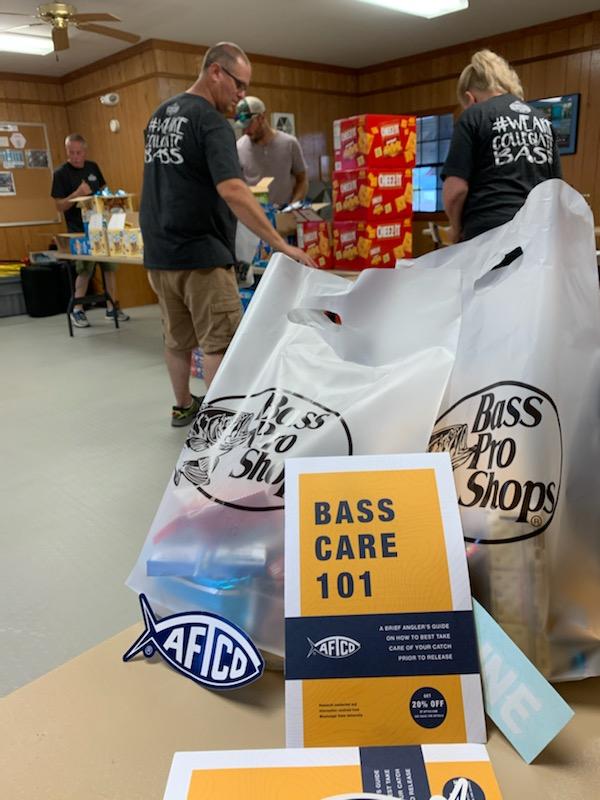 ACA staff are busy loading up snack bags for anglers to pick up tomorrow morning.  Anglers, be sure to swing by the weigh-in pavilion here at the state park and get a bag of snacks and bottles of water!
October 9, 2020 – 2:15 PM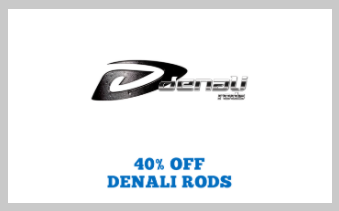 Denali Rods offers one of the best discount programs in the industry for college anglers.  Collegiate anglers are eligible to receive a discount code for 40% off Denal Rods.  Follow this link to apply for a code.
October 9, 2020 – 1:55 PM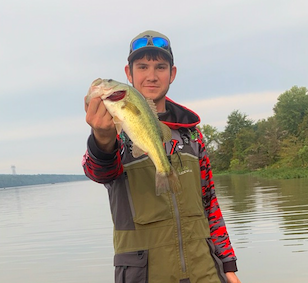 Pictured above is Cole Hess from Wabash Valley College.
October 9, 2020 – 1:20 PM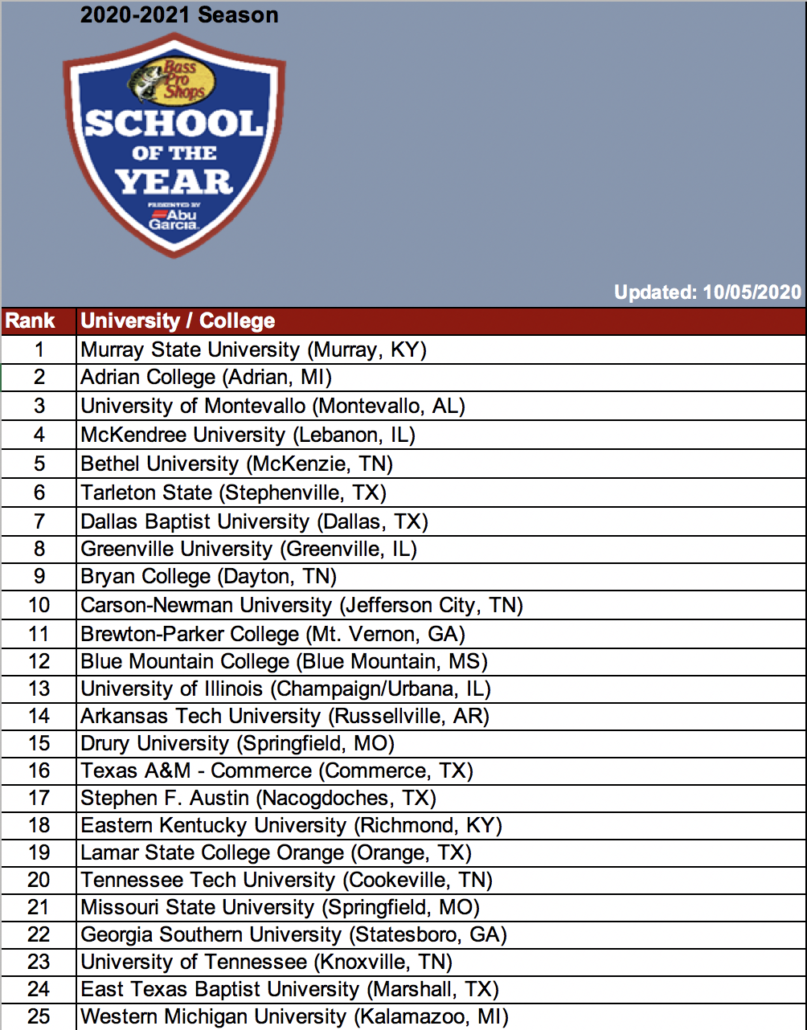 Entering this event, here is a look at the Top 25 in the current standings for the Bass Pro Shops School of the Year presented by Abu Garcia.  Click here for full standings.
October 9, 2020 – 1:00 PM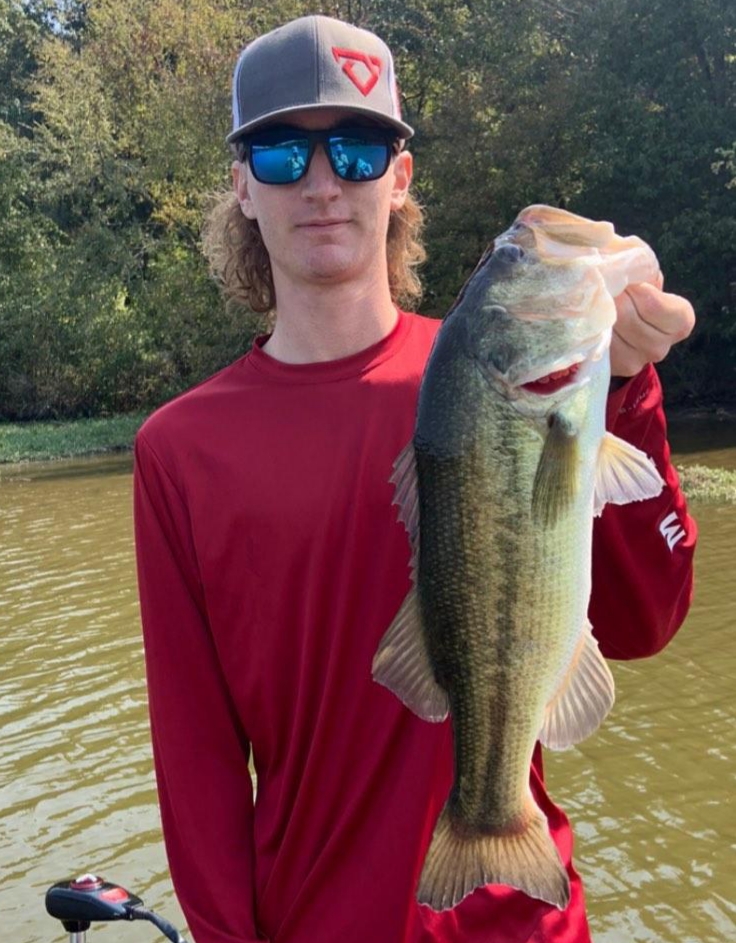 Shout out to Blake Williams from the University of Alabama for catching this Lake Dardanelle bass during practice this week.
October 9, 2020 – 12:45 PM
Fall fishing conditions have set in here at Lake Dardanelle.  Lake level is stable, water clarity is pretty standard for the Arkansas River, and bass are feeding up on shad.  Read a complete breakdown of current lake conditions that was published on our website earlier this week.
October 9, 2020 – 12:30 PM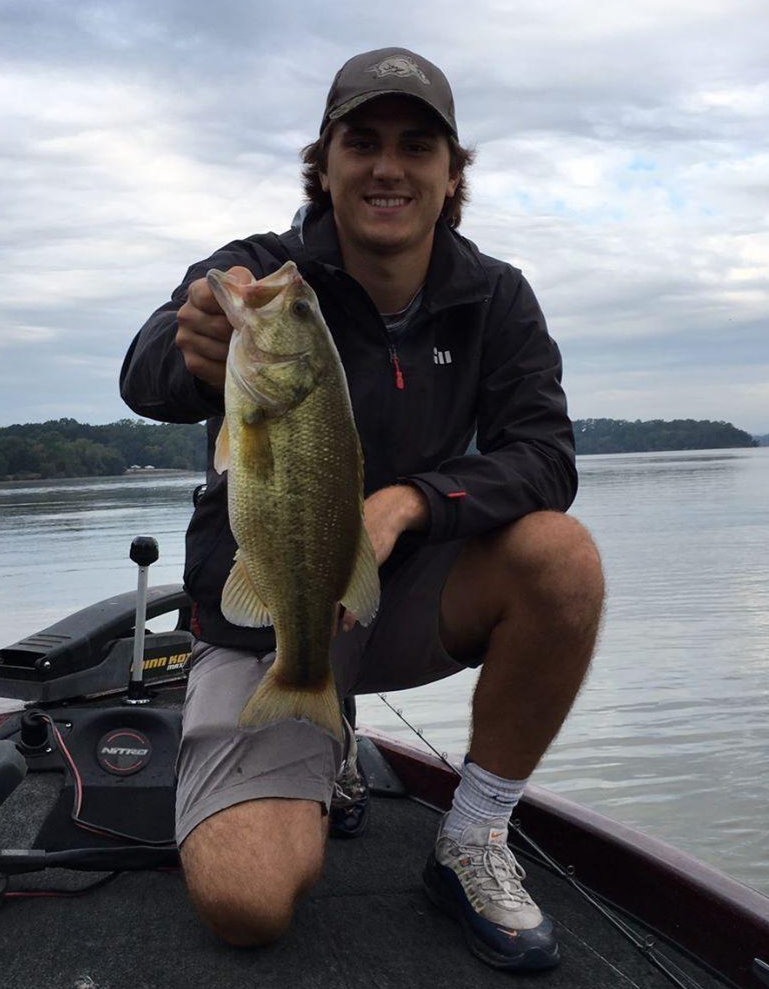 Here is a picture that we received from Mason Sanders of SIU-Carbondale.
October 9, 2020 – 12:10 PM
The Ryker Series is one of the newest lines of fishing rods from Denali.  Several of the prize payouts inside of the Top 20 for this event will include Ryker Series rods.  Watch this video to learn more!
October 9, 2020 – 11:50 AM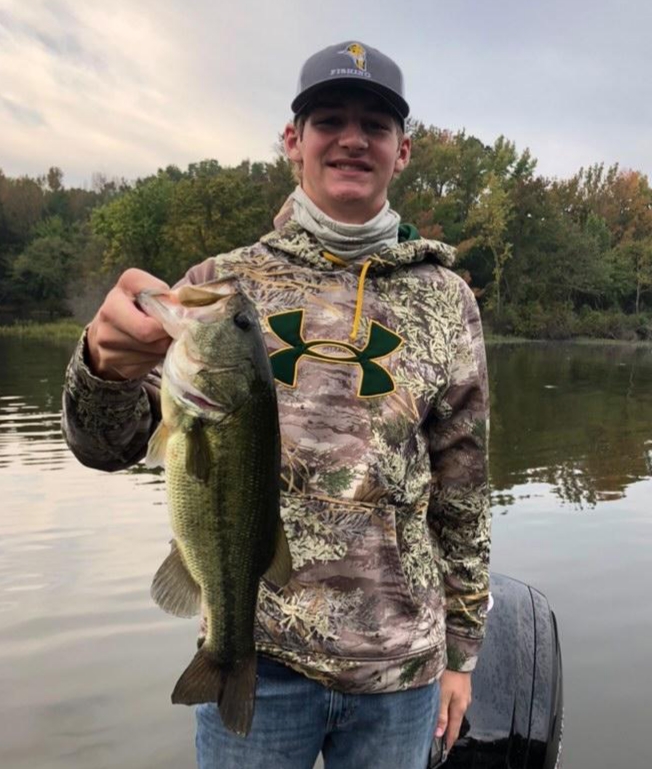 Danny Ford from Augustana College is putting in work during practice!  We have seen a lot of fish this size over the past several days of practice.  Lake Dardanelle is kicking out some solid fish during the fall months.
October 9, 2020 – 11:40 AM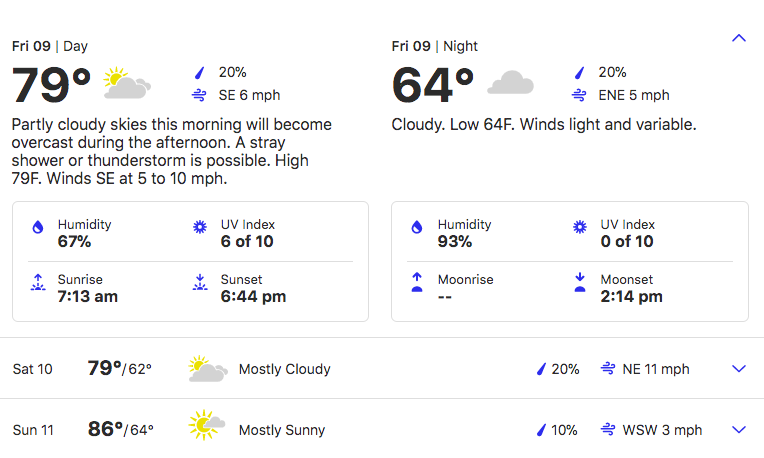 A major weather event is expected to impact the southeastern part of the United States this weekend as Hurricane Delta moves ashore.  Here in central Arkansas, the storm is not projected to make much of an impact.  There are a slight chance of showers for Saturday, and winds are expected to remain fairly calm.  Additional cloud cover could be the best thing that happens for the fishing conditions.  All signs point towards this being a good weekend to get out on the water and catch some fish!
October 9, 2020 – 11:20 AM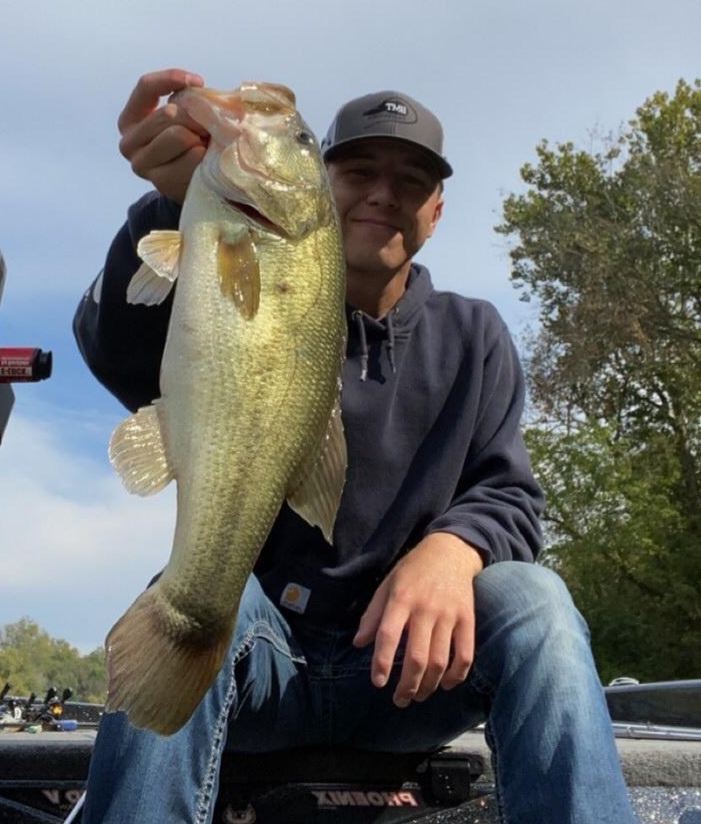 Pictured here is Austin Phillips from Arkansas Tech University.  ATU is located here in the host city of Russellville, AR.  Look for anglers from Arkansas Tech to use their local knowledge to their advantage during the event this weekend!
October 9, 2020 – 10:45 AM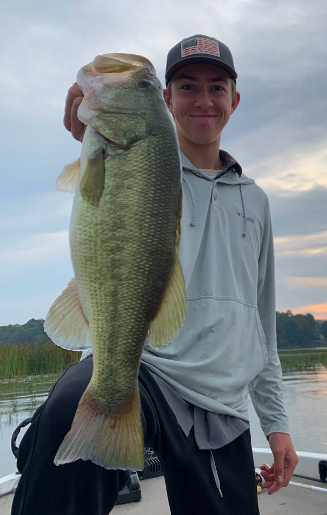 Drew Gill from Wabash Valley College found a good one earlier in practice!  These are the kind of difference makers that will separate a team from the rest of the field on tournament day.
October 9, 2020 – 10:30 AM
Welcome in to the live blog for the final practice day of the 2020 AFTCO Collegiate Bass Open on Lake Dardanelle in Russellville, AR!  Today we will be providing updates from on the water, and other information regarding preparation for the event.  Stay tuned for fish catch pictures and other great items today!
https://www.collegiatebasschampionship.com/wp-content/uploads/2020/10/95143125_10158650850497845_8347011456486604800_o.jpg
540
960
Shelley
https://www.collegiatebasschampionship.com/wp-content/uploads/2023/03/2022_CBFS_JM-White-300x194.png
Shelley
2020-10-09 10:03:08
2020-10-09 16:10:47
Live Blog: October 9 – Practice Day