Live Blog: May 26 – Tournament Day 1

Wednesday, May 26, 2021 – 1:20 PM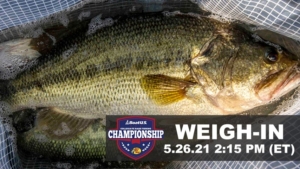 Weigh-in will be live streamed both on the website and via the Outdoor Action TV app and website.  Flight one is due back in at 2:15 PM.  The weigh-in will begin right about that same time.
Wednesday, May 26, 2021 – 12:05 PM
As we near mid-day on Day 1, we are hearing of several limits now.
You can expect that several other teams out on the water are finding the same success.  A mix of techniques are paying off from down near the damn, and all the way up the river.
Garmin Panoptix LiveScope is playing key today as these anglers work to locate structure spots and grass off of main lake points.  They are fishing vertically, dropping down on fish that they can see via their electronics.
Based on what we are hearing, here are schools that are reporting to have fish:
-Blue Mountain College, University of Montevallo, Carson-Newman, Newberry College, and Dallas Baptist University
12-15 pounds seems to be about the average weight for five fish limits.  There is a good chance that it will take well over that mark to claim the Day 1 lead.
Wednesday, May 26, 2021 – 11:35 AM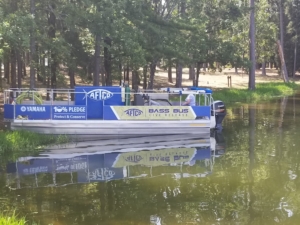 The AFTCO Bass Bus Live Release Boat is now in position here at Dreher Island State Park.  The Bass Bus will be assisting with fish care this week.  As anglers come off the stage and finish up taking pictures at the photo wall, they will walk the fish down to the release boat to be returned back out to Lake Murray.
Wednesday, May 26, 2021 – 11:15 AM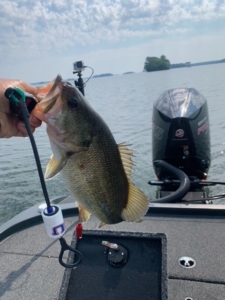 Jacob & Hunter from DBU report having a limit for roughly nine pounds.
Cole & Ewing from Carson-Newman have managed to cull up to 13 pounds as well.
Wednesday, May 26, 2021 – 10:40 AM
It appears that we may be entering a small bite window here.  We have reported several fish catches in the past 30 minutes and activity appears to be picking up across the lake.  The clear skies from earlier this morning are beginning to become more cloud filled.  With a good portion of the bass focused up shallow feeding on baitfish, any added cloud cover could help to improve or extend that bite for anglers fishing along the bank and over shallow bars.
Wednesday, May 26, 2021 – 10:25 AM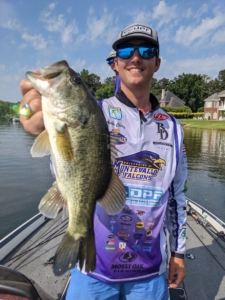 Another team from top-ranked Montevallo checks in with a keeper.  Aaron & Chandler recently boated this largemouth bass.
Cole & Ewing from 5th ranked Carson-Newman have four fish in the box for approximately 11 pounds.  Carson-Newman has the potential to sneak inside of the Top 3 in the School of the Year standings with a strong showing here this week.
Wednesday, May 26, 2021 – 10:10 AM
One of our crews recently caught up with Tim & Gerard from Newberry College.  The local anglers have five fish for about 13 pounds that they caught first thing this morning.
Wednesday, May 26, 2021 – 9:50 AM
Mid-morning update with the University of Arkansas who has multiple keepers in the well: Watch Video
Wednesday, May 26, 2021 – 9:45 AM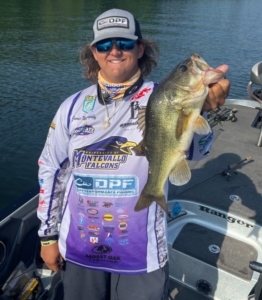 James & Chance from number one ranked University of Montevallo now have two keepers.
Wednesday, May 26, 2021 – 9:25 AM
We have received updates from numerous teams reporting keeper fish in the box.  Several teams have two keepers in the box.  Lost of fish in the two pound range up to this point.
A slight breeze is beginning to blow here around the state park.  Wind could be the catalyst needed to help these anglers catch fish later on in to the day.  That wind will stir up baitfish and limit the eyesight of the bass in this clear water.
Wednesday, May 26, 2021 – 8:50 AM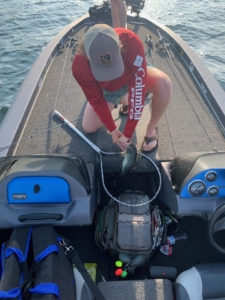 Masen & Davis from the University of Arkansas have boated two keepers so far this morning.
Wednesday, May 26, 2021 – 8:35 AM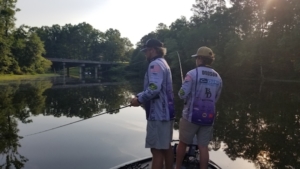 Late yesterday evening a small weather system had made its way through the area providing a break from the heat and some added cloud cover.  Early forecast projections showed that the cloud cover could possibly hang around for a bit today.  That is not the case here at Dreher Island State Park.  The sun is shining bright and there are little to no clouds up above.  This could impact the early morning bite significantly, pushing those fish out deeper more quickly.
Wednesday, May 26, 2021 – 8:20 AM
On the water video update with Bethel University anglers: Watch Video
Another camera crew member is with Emily & Ryan from 3rd ranked Murray State University.  They currently have zero fish in the well.
Wednesday, May 26, 2021 – 8:10 AM
Many of the teams we've seen on day one are targeting points and drops offs looking for schooling fish chasing bait with a mix of top waters, jerkbaits and swimbaits.   Some teams are also fishing cane and brush piles with a more finesse presentation.
We recently spoke with the University of Arkansas and 9th ranked Bethel University who both have one fish in the live well.  Both teams are using a run and gun strategy  early here on day one.
Wednesday, May 26, 2021 – 8:05 AM
Follow the attached link to view an on-the-water update from Ohio State University: Watch Video
Wednesday, May 26, 2021 – 7:55 AM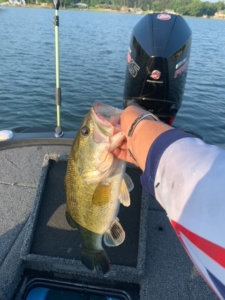 Jacob and Hunter from eighth ranked Dallas Baptist University report having two fish in the livewell for 4 pounds.
Wednesday, May 26, 2021 – 7:45 AM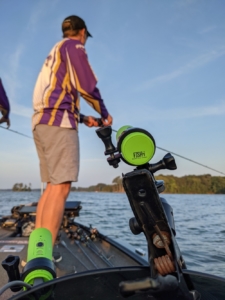 Another member of our crew is covering Nate & Bailey from second ranked McKendree University.  McKendree is chasing history at Lake Murray this week.  No team has ever won three School of the Year titles in a row.  McKendree has won each of the last two years, and is in the hunt for claiming title number three.  Just over 1,000 points separate first and second place, so it is not out of the question for McKendree to chase down Montevallo when all is said and done.
Wednesday, May 26, 2021 – 7:40 AM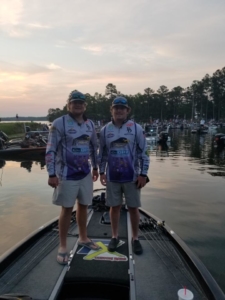 One of our camera crews will be starting the morning with Trent and Cole from number one ranked University of Montevallo.  Montevallo has been leading the Bass Pro Shops School of the Year presented by Abu Garcia since November of 2020.  The team is looking to win its first-ever School of the Year title when the event concludes tomorrow.
Wednesday, May 26, 2021 – 7:35 AM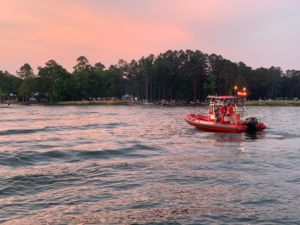 BoatUS is on-site with a tow boat for anglers to utilize.  All competitors in the field at this week's Championship are able to use the tow boat service free of charge.  Special thanks to BoatUS for offering this awesome service to the anglers, and for all of their support for these college students!
Wednesday, May 26, 2021 – 6:55 AM
The full field is now out on Lake Murray for Day 1 of competition.  Stand by for updates and pictures as we receive them off the water!
Wednesday, May 26, 2021 – 4:50 AM
Good morning from Day 1 of the 2021 BoatUS Collegiate Bass Fishing Championship presented by Bass Pro Shops!  The first teams are beginning to launch here at Dreher Island State Park on the shores of Lake Murray in South Carolina.  Boat number one will leave out at 6:00 AM.  Stay tuned for more updates and coverage as the morning progresses.
https://www.collegiatebasschampionship.com/wp-content/uploads/2021/05/FEATURE-IMAGE_WEDNESDAY-BLOG.jpg
1000
1000
Kyle Curry
https://www.collegiatebasschampionship.com/wp-content/uploads/2023/03/2022_CBFS_JM-White-300x194.png
Kyle Curry
2021-05-25 21:35:02
2021-05-26 13:17:24
Live Blog: May 26 – Tournament Day 1