Full Field Set for National Championship
FLORENCE, AL (5/22/2019) – The Angler & Sponsor Banquet has concluded and all of the pre-tournament festivities are in the books.  Now all that's left is the fishing.  A full field of anglers will be taking to Pickwick Lake tomorrow for the BoatUS Collegiate Bass Fishing Championship presented by Bass Pro Shops.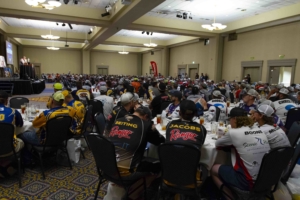 Official tournament launch will begin at 6:00 AM, with the best college anglers in the country heading out from McFarland Park in Florence, AL to go chase bass out on the Tennessee River.  The Tennessee River during the summer months is known as one of the best ledge fishing lakes in the country.  Bass in Pickwick Lake migrate from the shallows following the spawn and set up shop out on the main river ledges for the next several months.
From talking to the anglers tonight, fish can be found out on the ledges.  However, they are located on just a few specific areas.  "They're not everywhere like they usually are, but if you seem to find them…you find a bunch of them," said Ty Cox from the fifth place School of the Year team in Blue Mountain College.  Anglers have been scanning over those ledges all week, and no stone will go unturned in search of the winning fish.
"On the Tennessee River you've got to have current," added Cox.  Current is the dinner bell for the Tennessee River system.  When that water starts moving through Pickwick Lake, the bass will begin feeding.  This is the moment when those fish become easiest to catch.  A variety of crankbaits, spoons, and jigs will play a key role this week.
The other main focus over the next two days will be the chase for Bass Pro Shops School of the Year presented by Abu Garcia.  McKendree University enters this week as the leaders in this year long race.  They lead second place by over 600 points.  With a sizable lead such as that, nerves could be an issue on the first day of tournament action.  "I don't think anybody is nervous at all.  It's just another tournament and they're going to go out and fish.  They're ready to go," noted Jon Rinderer, Head Bass Fishing Coach at McKendree University.
School of the Year is a year long battle that is a true test for even the best teams in the country.  This week at the Championship the first place team will earn 1,000 points.  Holding off the challenging teams inside the top 10 and finishing in first place will be quite the accomplishment for whoever walks away with this title.  "It would be a phenomenal accomplishment.  It's been my dream ever since I started this program to get in this position, and to be in this position every year to earn this accomplishment," said Rinderer.
One other factor that is a key player during this event is Wilson Lake.  Anglers have the opportunity to lock up, and fish on a lake that offers a different variety of cover compared to Pickwick.  "We are actually going to lock up to Wilson.  I think me and my partner are much better suited for that type of bite, and we feel confident going into the tournament tomorrow," said Christian Hernandez from McKendree University.
Wilson Lake has a ton of shallow cover.  Fish will position in there this time of year and are much easier to catch.  Soft plastics and topwater baits will be anglers' best options in that scenario.  Wilson Lake does not typically produce winning bags, but it will consistently kick out 12-15 pounds  for teams hoping to earn valuable School of the Year points. Wilson Lake could be the key to securing the coveted title.  "We're just trying to have a solid game plan so we can stay as high in the points as we can.  We figured we can catch 15 pounds easily.  We know we're probably not going to win with that, but we're probably not going to be in last place with that," added Hernandez.
Year in and year out, the BoatUS Collegiate Bass Fishing Championship presented by Bass Pro Shops is a tightly contested event.  On average it takes roughly 22 pounds each day to place inside of the top 5.  Anglers are estimating that it will take similar weights this year to win.  "I guess between 41 and 43.  It'll still take over 20 a day to win," said Ty Cox.
Live coverage will begin tomorrow morning at the official launch.  Follow all of the action online and through our social media channels.
https://www.collegiatebasschampionship.com/wp-content/uploads/2019/05/IMG_3138-1.jpg
3456
5184
Kyle Curry
https://www.collegiatebasschampionship.com/wp-content/uploads/2023/03/2022_CBFS_JM-White-300x194.png
Kyle Curry
2019-05-22 20:41:35
2019-05-22 20:41:35
Full Field Set for National Championship