The Suicide Buzzbait new for 2018.
Big Bite Baits Fishing Lures pro Michael Neal targets Bream beds during the dog days of Summer looking for opportunistic Largemouth. Our new Big Bite Baits Fishing Lures Suicide Buzzbait is a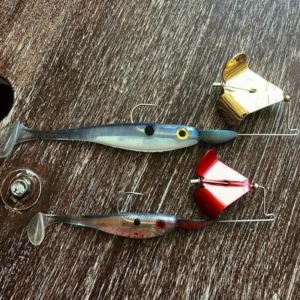 great option for covering water in search of those Largemouth taking advantage of the Bream spawn. "The new Suicide Buzzbait will definitely be one of the baits I have tied on all Summer long. I can cover a lot of shallow water with it in a hurry, and it does a great job at imitating a fleeing Bream." said Neal.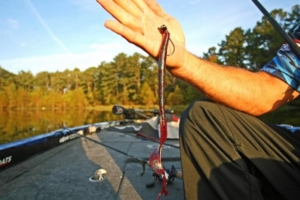 Big Bite Pro Russ Lane doesn't like to leave anything on the table when it comes to Summer time ledge fishing. The Alabama pro urges you to make sure you play clean up before leaving that sweet spot that seems to have played out. "Often times I see anglers leave a spot too soon once an active bite has begun to taper off," says Lane. "When I find an active school of fish on a ledge, and they stop biting moving baits like a crankbait or swimbait, I am always going to follow up with what I like to call a clean up bait." Lane's clean up bait of choice during the Summer is a 10″ Big Bite Baits Kriet Tail worm, fished on a 1/2 oz or heavier stand up style jig head. Lane fishes this bait on a 7'2″ Heavy Denali Kovert Lite Worm & Jig rod (K864WJ), paired with a 6:3:1 gear ratio reel spooled with 16 lb Sunline FC Sniper. "Playing clean up on a spot will often times allow you to catch several more fish, and sometimes they can be the largest fish in the school." Lane concluded.
Got Questions? Call the Coach
Do you have product or rigging questions about our baits?  Call the "the Coach", Les Bratcher at 877-222-7429 on Monday, Tuesdays or Thursdays from 8am-4pm cst.
https://www.collegiatebasschampionship.com/wp-content/uploads/2018/08/BBB_SUMMER_1.jpg
800
800
Amanda
https://www.collegiatebasschampionship.com/wp-content/uploads/2021/05/2019-BPS_CBFS_logo-300x179.png
Amanda
2018-08-16 17:45:05
2018-08-16 17:47:47
From Big Bite Baits: Find out how to Buzz thru the rest of summer….