Cole Dodson From Top Ranked Montevallo Wins 2021 Bass Pro Shops Big Bass Bash presented by Berkley
Murray State Anglers Aidan Kolb & Sam Moll Finish in 2nd and 3rd Respectively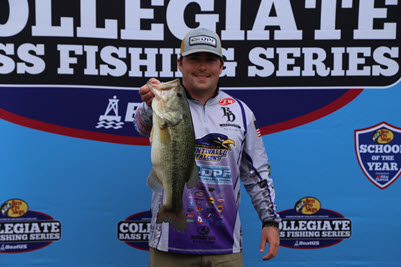 PARIS, TN (March 14, 2021) – The first Association of Collegiate Anglers event, the 2021 Bass Pro Shops Big Bass Bash presented by Berkley on Kentucky Lake, is in the books. Conditions set up just right for anglers to get plenty of bites and cross the stage back at Paris Landing State Park with some quality fish. Cole Dodson from number one ranked University of Montevallo held the Day 1 lead with 5.75 pounds. Dodson fended off close to 400 of the best anglers in college bass fishing to take the overall victory at the 2021 Bass Pro Shops Big Bass Bash presented by Berkley.
As the overall winner of the event, Dodson won a prize package valued at over $4,000. That first place prize payout consisted of a Power-Pole gift certificate, Bob's Machine Shop JackPlate, $1,000 Bass Pro Shops gift card, Tactacam Fish-i camera, Abu Garcia product, HydroWave H2, and a T-H Marine kit. By claiming top overall honors, Dodson earned an additional $250 for the ACA logo contingency. Combined with the Garmin LiveScope system and Bass Pro Shops gift cards he earned for winning Day 1 Session 4 presented by Garmin, Dodson leaves Kentucky Lake with over $6,000 in prizes and contingencies.
By winning first place overall, Dodson earned 1,000 points for his school to count towards the Bass Pro Shops School of the Year presented by Abu Garcia. Montevallo entered this event with a close to 2,000 point lead over second place McKendree University. A first place finish, paired with Montevallo's next highest finishing fish, will earn them well over 1,000 points combined when the standings are updated later this week.
The early morning bite during both days of the tournament was very strong. Jacob Oliver from Arkansas State University kicked things off on the final day of competition by winning Session 1 presented by Abu Garcia with 5.16 pounds. Oliver received a $300 Bass Pro Shops gift card, Abu Garcia Ike casting rod, and a T-H Marine prize package for that session victory.
Fisher Young from Blue Mountain College was the first angler to the stage during Session 2 presented by Tactacam as he weighed in a largemouth bass weighing 4.77 pounds. Young was able to hold on to that lead for the entire two hour period and claim the session victory. The Session 2 winner earned a Tactacam Fish-i camera, $300 Bass Pro Shops gift card, and an Abu Garcia Veritas casting rod.
Rounding out the final session of the event, Aidan Kolb won Day 2 Session 3 presented by Berkley with 5.41 pounds. Kolb's fellow teammate from Murray State University, Samuel Moll took second place honors in that session with 5.38 pounds. First place for Day 2 Session 3 won a $1,000 Bass Pro Shops gift card, Abu Garcia Ike casting rod, Abu Garcia Veritas rod, and an ACA custom BUFF.
Special thanks to Henry County and Paris, TN for the great hospitality this week!
We will provide more in-depth coverage on this weekend's event as the upcoming week progresses, to include:
-A spotlight on the winner
-5 New Automatic qualifiers for the 2021 BoatUS Collegiate Bass Fishing Championship presented by Bass Pro Shops
-Update to the Standings for the Bass Pro Shops School of the Year presented by Abu Garcia
https://www.collegiatebasschampionship.com/wp-content/uploads/2021/03/Cole-Dodson-BBB-2021-D1-S4-Winner_compressed.jpg
267
401
Shelley
https://www.collegiatebasschampionship.com/wp-content/uploads/2023/03/2022_CBFS_JM-White-300x194.png
Shelley
2021-03-14 16:55:27
2021-03-14 16:55:27
Cole Dodson From Top Ranked Montevallo Wins 2021 Bass Pro Shops Big Bass Bash presented by Berkley