SAN ANTONIO, TX (3/21/20) – Garmin continues its support of bass fishing in 2020 with the new Garmin Tournament Rewards program. The program awards a cash prize to the highest-placing Garmin user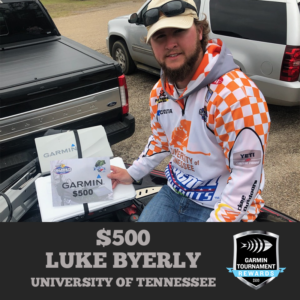 at qualifying events on the Bass Pro Shops Collegiate Bass Fishing Series.   The first winner under the new program was Luke Byerly, who was awarded a $500 bonus based on his finish at the recent Texas Lunker Challenge presented by Mossy Oak Fishing.  Byerly, an angler on the University of Tennessee bass team, ended up the highest-placing Garmin user with his second-place finish, and took home the Tournament Rewards cash prize.
"We were able to go down the bank and just creep along with that Garmin LiveScope.  We were able to see those fish suspended and sitting in the grass, and we'd just go kind of back off the area and flick in and just fish a wacky rig real slow.  That's how we got all of our bites this week," said Byerly.
Byerly and his fellow teammate from the University of Tennessee relied on Garmin Panoptix LiveScope to catch all of their fish this week.  A Best in Show winner for the New Product Showcase at ICAST 2018, LiveScope provides a real-time image either in front of, or below an angler's boat.  Some have even gone as far as relating it to video game fishing.  Simply drop your bait down, watch the fish react, and set the hook.  Though Byerly did not get to see one commit to his bait this week, he was very impressed with the capabilities of Panoptix LiveScope.   "I never got to see one come and eat it, but we'd all release them at the trolling motor and watch them swim back,"  Byerly added.

Tournament rewards and contingency programs provide an added incentive for competitive anglers.  Not only do you head home with the prizes and payouts from your finishing spot in said tournament, you also have the opportunity to rack up thousands of dollars in contingencies.  Luke earned $500 by finishing second place and running Garmin electronics.  That money will serve the young college angler well as he makes the trip home and looks to gear up for future tournaments.  Garmin Tournament Rewards will be awarded at all ACA ran events for the 2020 season.  To find out more about the Garmin Tournament Rewards program, follow this link.
https://www.collegiatebasschampionship.com/wp-content/uploads/2020/03/Luke-Byerly_Tournament-Rewards.png
800
800
Kyle Curry
https://www.collegiatebasschampionship.com/wp-content/uploads/2021/05/2019-BPS_CBFS_logo-300x179.png
Kyle Curry
2020-03-21 13:08:22
2020-03-21 13:08:22
Byerly Wins $500 Through Garmin Tournament Rewards