Adrian College Prevails in Ranger Cup University Challenge
San Antonio, TX (1/10/19) – Across the country, Texas is known as one of the best destinations for bass fishing.  And over the past few days at Fayette County Lake in central Texas, some of the top collegiate anglers from two of the highest ranked schools in the Bass Pro Shops School of the Year standings added more credibility to this heralded reputation.  In one eight hour day of competition in the Ranger Cup University Challenge, four anglers caught just over 60 bass weighing a total of approximately 153 pounds.  Once those weights were tallied up, 2nd ranked Adrian College had the larger share of that total and took home the title of Ranger Boats Cup University Challenge champion.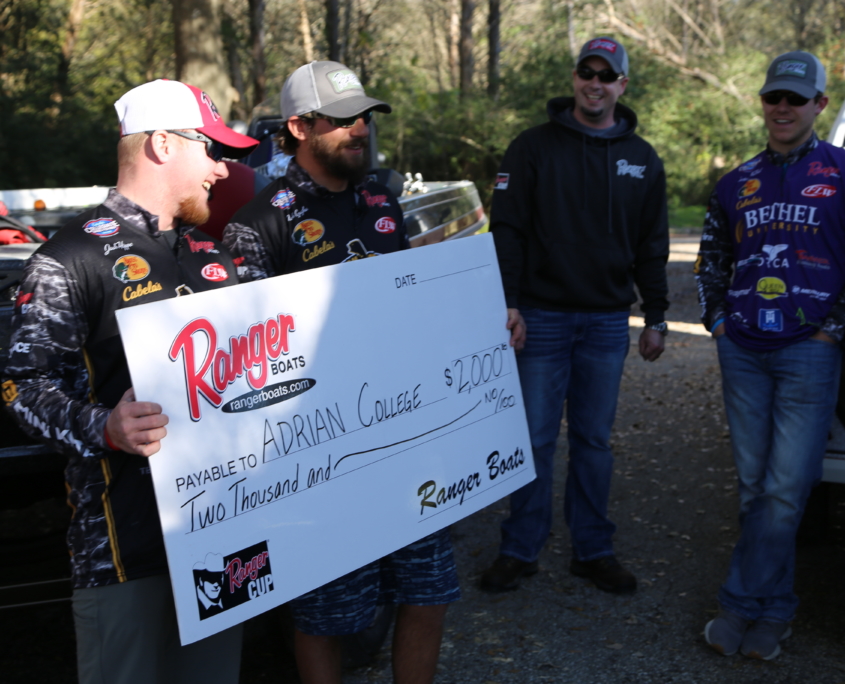 "It was a long, stressful day.  Even though we maintained the lead all day, it still didn't make us feel any better.  If anything, it was like 'man, we've got a target on our back and now we've got to maintain it.' It's good to be done, and happy we ended up on top," said Jack Hippe from Adrian College.  Hippe, along with fellow teammate Nick Czajka, went head to head with defending School of the Year, and national championship winning, Bethel University in an every fish counts format event.
Throughout the day, competitors received updates on each team's total weight.  This little twist varies from normal competition rules, and each team had to figure out how to best deal with knowing what the other has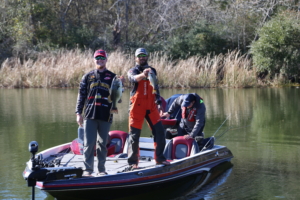 in regards to total weight.  "We've seen it too many times where you kind of let off, or think you've got it.  You can make things happen quickly on a lake like this.  We knew they were right there behind us, and if they ran up on the right stretch they could easily even out with us," noted Nick Czajka of Adrian College.
The Michigan anglers made the early decision to start their day near the ramp and just go fishing.  This proved to be a very wise decision when the first weight update rolled in around 8:00 am.  "It started off pretty quick.  I mean, I hit a couple of fish on my first couple of flips.  He caught a five pounder right out of the gate on a buzzbait.  That just kind of set the tone for the whole day," noted Hippe as he talked about their hot start.
Adrian College jumped out to a large lead with the help of that five pounder caught by Czajka.  At the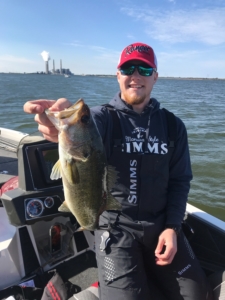 first update, Adrian College had a total of nine fish weighing 24.40 pounds.  Bethel University sat roughly 11 pounds behind with eight fish weighing 13 pounds.
After capitalizing on a fierce early morning bite, the Adrian College team went to work in dissecting exactly what these Texas-sized largemouth were doing.  They pulled out the flipping sticks and began to pluck fish out of the shallow cover at a steady rate.  "As the sun got out, and the day went on, we had to get up real tight to the cattails.  Get a heavier jig on, and flip way back into the thick stuff to get bit," explained Czajka.
Throughout the remainder of the day, Hippe and Czajka proved to be locked in.  Each update began to reveal the Adrian anglers had established a consistent and steady pattern.  All the way up until the final weigh-in of the afternoon, the pair maintained a roughly 13-15 pound lead over Bethel throughout the day.
Being able to establish a solid pattern that could be replicated across the lake proved to be a difference maker that led them to the title.  Being in the hunt for the Bass Pro Shops School of the Year presented by Abu Garcia, claiming this title is a great way for Adrian to kick off the new year.  Hippe was very pleased with Wednesday's result, "It means everything, it's awesome. Kind of speechless honestly."
With the format of this event being set up in such a manner where teams constantly know what the other is doing, it can add a lot of extra worry and stress to the team that's fighting to come back from behind.  "The updating part, it'll get you spun out.  It'll scare you.  Right off the bat in the morning, we got the update and we were way behind.  It's hard to pick up ground from when you get that far behind," said Cole Floyd from Bethel University.  Though it may be discouraging, if there was one team in the country that has the poise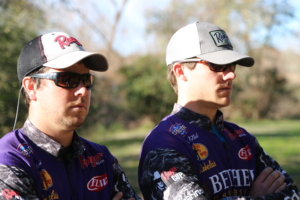 and confidence to fight back, Cole Floyd and Carter McNeil are possibly the best prepared and seasoned anglers for the job.
Floyd and McNeil qualified for the Ranger Cup University Challenge by winning the BoatUS Collegiate Bass Fishing Championship presented by Bass Pro Shops.  Winning the most prestigious event in all of college fishing, against 400 of the best anglers, proves that these two are tough enough to stand up to any test.
After falling behind early, Floyd and McNeil quickly dialed in a pattern and managed to steadily catch fish all day.  "We kind of got a late start on it.  We tried to run up and catch some numbers real quick, and we didn't know there was going to be that many numbers on the bank," noted McNeil.  The team from Bethel University in Tennessee also moved shallow and went to work flipping up two to three-pound bass.
As both teams noted, the bass appeared to be on beds and spawning in the shallow cover.  Each of these teams traveled from cooler climates up north to get to this event.  Fishing warm Texas waters came as a treat.  "I like everything about the lake.  I mean, if you like to fish deep, if you like to fish shallow, you can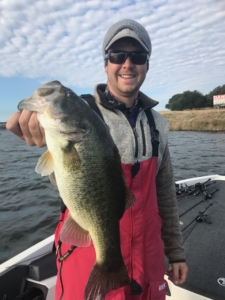 do either or.  Today, shallow was the deal.  Most of the fish are spawning," said Floyd.
An Ohio native, Cole Floyd lives for flipping shallow cover.  Being able to dial in a shallow flipping bite made this event a true joy for him, "It was really fun.  I like flipping. Going into close quarters combat with them, it's fun."
Although Bethel University got behind early, the pair rallied to have a very successful day.  From about 8:00 am on, they matched Adrian College fish for fish the remainder of the day.  The defending School of the Year champions worked hard to get here, and are poised to have a strong spring season.
The Ranger Cup University Challenge proved to be another great event.  Ranger Boats, along with the Bass Pro Shops Collegiate Bass Fishing Series, worked hard to provide these great anglers with a once-in-a-lifetime experience.  "It's what everyone wants to get to.  It's a really neat deal you guys have got going on," said Cole Floyd about this event.
To be able to earn an opportunity like this, you need to register for the Ranger Cup program online.  Follow this link to become eligible.  It is free to participate, and the benefits make this one of the best incentive programs in the sport.  If that's not enough to convince you to register, here's what one of your fellow peers has to say about it, "You better get registered because you're missing out.  That's what I've got to say to them," said Carter McNeil from Bethel University.
A special thanks to Ranger Boats for making this event possible.  The Ranger Cup University Challenge will air in an upcoming 30-minute episode of Americana Outdoors later this year as well as being featured on the Bass Pro Shops Collegiate Bass Fishing Series.
https://www.collegiatebasschampionship.com/wp-content/uploads/2019/01/IMG_20190109_155125_963.jpg
3024
4032
Kyle Curry
https://www.collegiatebasschampionship.com/wp-content/uploads/2023/03/2022_CBFS_JM-White-300x194.png
Kyle Curry
2019-01-10 14:33:01
2019-01-10 14:34:22
Adrian College Prevails in Ranger Cup University Challenge