A Closer Look into Dalton Kelly's Victory at the Bass Pro Shops Big Bass Bash presented by Berkley
SAN ANTONIO , TX ( September 23, 2020) – Winning a bass tournament at any level of competition is quite the accomplishment.  Earning a victory against hundreds of the best collegiate anglers in the country, that's a career-defining moment.  Dalton Kelly from number one ranked Murray State University cemented his place amongst the top ranks of collegiate bass fishing by winning the 2020 Bass Pro Shops Big Bass Bash presented by Berkley on Kentucky Lake in Paris, TN.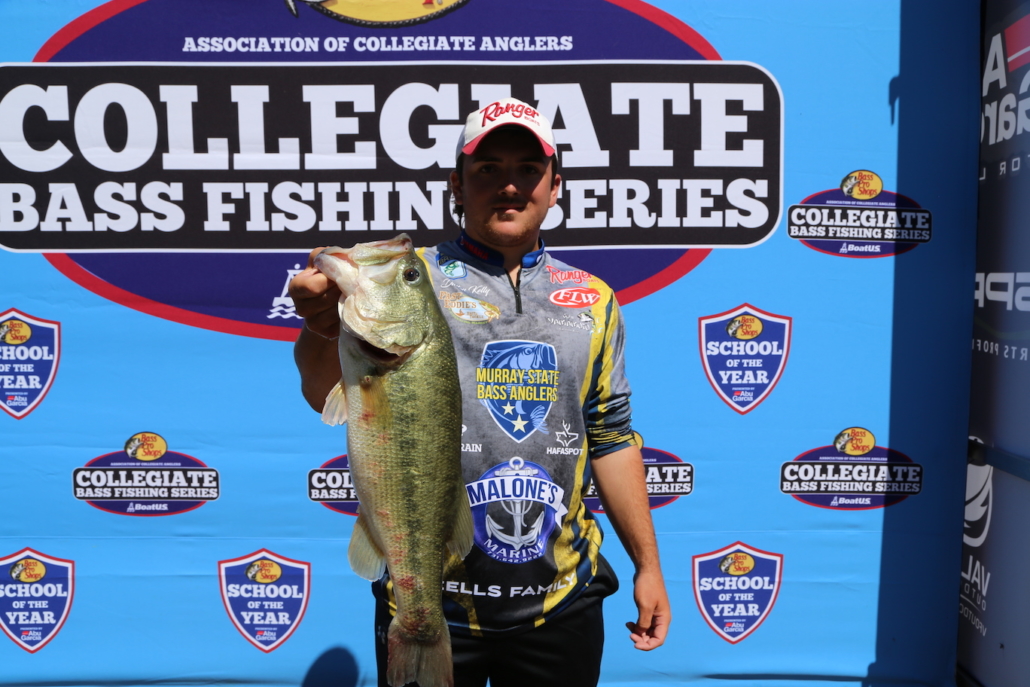 1st Place Prize Payout & Contingencies
Kelly weighed in a 5.53-pound largemouth bass during Day 2 Session 3 presented by Bass Pro Shops to claim the session victory and win the overall tournament title.  By winning Session 3, he received a $1,000 Bass Pro Shops gift card, Abu Garcia Revo Ike spinning reel, and an Abu Garcia Veritas rod.  The Murray State angler also received quite the haul for winning the entire event.  "The prizes I received were unreal. I had so much stuff being handed to me," Kelly explained.  "My teammates had to help me pack it all to the boat. I received a cooler, rods and reels, checks, gift cards, and a HydroWave!"
Here is a quick look at the payout for the Overall Winner: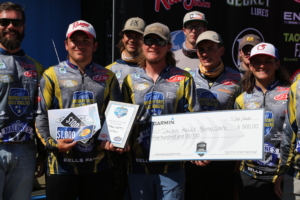 $1,500 Power-Pole Gift Certificate
$1,000 Bass Pro Shops Gift Card
25 Qt. Engel Cooler
Abu Garcia Revo Beast 40
Abu Garcia Veritas Rod
Hydrowave H2
$100 Ranger Wear Gift Card
G-Juice Livewell Treatment
Along with the prize payouts, Dalton also earned both the Ranger Cup contingency and Garmin Tournament Rewards for his 1st place finish.  Ranger Cup pays out $1,000.  Garmin Tournament Rewards goes out to the highest-placing Garmin user at each Association of Collegiate Anglers event.  By running a Garmin Panoptix LiveScope system at the front of their boat, Kelly nets an additional $500.  The grand total for the prizes & contingencies paid out to Murray State's Dalton Kelly are valued at more than $6,000.
"ACA puts on great tournaments for us anglers and it's all free to us. After having some very close calls the past couple of weeks, I am just glad to finally put one under my belt," Kelly added.
Winning Berkley Bait & Pattern
"I caught the fish on a Berkley Choppo 120 fishing bars on the north end of the lake," he explained.  "We were looking for ditches that ran through the bars, where fish could hang out then pull up to feed when it was time."  On Day 2 of the Bass Pro Shops Big Bass Bash presented by Berkley, anglers were permitted to use only Berkley baits.  Kelly opted to throw the Berkley Choppo in a Ghost White pattern.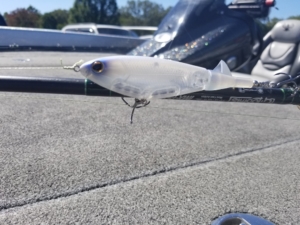 The Choppo proved to be a very productive bait on Day 2 of competition.  It accounted for two of the three session victories and was responsible for dozens of fish that crossed the scales that day.  The easy to use topwater lures is designed to deliver explosive topwater action.  Fishing this bait effectively is a fairly simple task, just cast the bait and reel it in.  Working the bait in open water across points and bars, just like Kelly did, were the keys on Kentucky Lake during the Big Bass Bash.
"When the fish finally made it in the boat, I knew it was over 5 and there was some celebrating going on as at the time," Kelly explained.  "Nothing over 4.9 pounds had been weighed in. I knew last year only took 5.16 so I had chance at taking the whole thing home."
This marks the second year in a row in which the Bass Pro Shops Big Bass Bash presented by Berkley was won on the second day of competition when anglers were only using Berkley products.
Murray State Making an Early Run at the School of the Year Title
Murray State entered this past weekend's event in 1st place for the 2020-21 Bass Pro Shops School of the Year presented by Abu Garcia.  "Obviously all tournaments are important, but with this one being double School of the Year points, it was extremely important to do well to keep our lead," said Kelly.  At all ACA major events, competing schools earn points for their highest two finishing teams inside of the Top 100 in the final tournament standings.   Kelly's victory alone will earn Murray a total of 1,000 points.  Combine that with another good performance from a fellow teammate and the Murray State Bass Club will have a great shot at maintaining its lead.
"This was huge for Murray as we've had an extremely good month of September. We have a lot of seniors this year and we want the SOY bad," Kelly added.
A full update to the Bass Pro Shops School of the Year presented by Abu Garcia will be provided later this week.
https://www.collegiatebasschampionship.com/wp-content/uploads/2020/09/IMG_0949.jpg
912
1368
Kyle Curry
https://www.collegiatebasschampionship.com/wp-content/uploads/2023/03/2022_CBFS_JM-White-300x194.png
Kyle Curry
2020-09-23 10:44:08
2020-09-23 10:44:08
A Closer Look into Dalton Kelly's Victory at the Bass Pro Shops Big Bass Bash presented by Berkley