2021-22 Bass Pro Shops School of the Year presented by Abu Garcia Pre-Season Poll: Rankings 11th – 15th
Teams Ranked 11th to 15th are revealed as the Association of Collegiate Anglers provides the results from its first-ever pre-season poll
Published by: Kyle Curry
8:00 AM July 21, 2021
Association of Collegiate Anglers
San Antonio, TX (7/21/2021) – The Association of Collegiate Anglers, which operates the Bass Pro Shops School of the Year program presented by Abu Garcia, is excited to showcase the pre-season rankings for college bass fishing, according to a voting poll of top coaches, schools, media personnel, and fishing industry personalities with experience in college fishing.
This poll is a one-of-a-kind poll, similar to rankings in other college sports, that will help kick off the season-long race for the prestigious School of the Year title.   Every day this week, the ACA will count down and showcase teams that made it into the Top 25, and then in the near future, the first rankings for the 2021-22 season will be announced based on finishes during events this summer. Today's article will show teams that were selected 11th to 15th in the pre-season rankings.
Tarleton State University
Stephenville, TX
2021 Final Ranking: 10th
Checking in at 11th in the 2021-22 ACA Top 25 Pre-Season Poll is Tarleton State University.  After a Top 10 finish last season, Tarleton is proud to be recognized by its peers and fishing community as one of the best 15 teams in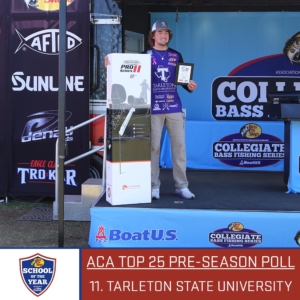 the country.
"We are all very proud that we are expected to finish in the Top 15 in SOY," said Reagan Nelson, Tarleton State University angler.
During the 2020-21 season, Tarleton State placed a team inside the Top 20 of every major ACA event.  At those five events alone, Tarleton earned a total of 8,840 points, which helped them in the rankings.
The Top 10 finish in 2021 marks the fourth time in school history that Tarleton State has finished the season ranked in the Top 25 of the Bass Pro Shops School of the Year presented by Abu Garcia.
Tarleton boasts one of the larger bass fishing clubs in collegiate bass fishing and has been competing in college bass fishing events since the first BoatUS Collegiate Bass Fishing events on Lake Lewisville 16 plus years ago.  The well-organized team from Stephenville, TX regularly sends 10-20 anglers to each ACA event throughout the season.  With many key members of the team returning this upcoming season, Tarleton is shooting for another Top 10 finish and it's highly possible this Texas-based school could contend to win it all this year.
"We finished 10 overall last year and we want to build on that and get another Top 10, with the group of anglers we have right now that is very possible," added Nelson.
Dallas Baptist University
Dallas, TX
2021 Final Ranking: 9th
Another team from Texas finds itself in the Top 15 of the pre-season poll based on votes from the pollsters.  Dallas Baptist University will enter the season ranked 12th by the college fishing community.  Dallas Baptist, like 11th ranked Tarleton just ahead of them, is a storied college fishing program that has had a lot of success in college fishing events nationwide.
Over the course of the past two seasons, numerous underclassmen from DBU have proven to be primetime anglers.  From Lake Dardanelle, to Kentucky Lake, and down to Pickwick, DBU continues to place anglers near the top of the standings in Association of Collegiate Anglers events.
DBU will be a team to keep an eye on this season.  Those young anglers are now entering their third and fourth years of college and will be returning to fisheries that they now have a strong past history at, and that experience could propel them into the Top 5 teams in the nation, with an outside shot at the School of Year title.  DBU could be primed to make waves and have a great season.
Campbellsville University
Campbellsville, KY
2021 Final Ranking: 11th
Campbellsville University checks in at spot number 13 in the Top 25 Pre-Season Poll.  This pre-season ranking places Campbellsville in a similar spot to where it ended the 2021 season.  Aided by points from four ACA double points events, Campbellsville finished last season ranked 11th overall.  This is the highest end-of-season ranking in school history for Campbellsville.
"We would say that the only reason for our continual success is because we at Campbellsville feel like we have the absolute best staff, school, and sponsors supporting us to continue to grow our program," said Pete Hedgepath, Head Coach at Campbellsville University.  "We are beyond blessed to be backed by the university like we are. Without their help, we would be nowhere near where we are today!"
Over the course of the last three seasons, Campbellsville has been a model of consistency.  Here is a look at the team's final ranking each of the past three seasons:
-2021: 11th Place
-2020: 12th Place
-2019: 14th Place
Campbellsville has cause for excitement as the 2021-22 season gets underway.  The team has had success at Kentucky Lake, Lake Dardanelle, and Pickwick Lake throughout the years.  The ACA is set to visit all three of these fisheries this season.  Past knowledge, combined with great skill and decision making, just might be Campbellsville's key to cracking the Top 10 for the first time.
"Our goal this year is one thing only, we as a team want to bring home our first School of the Year title," added Hedgepath.  "And we will work as hard as possible to make that happen! We are so blessed to have everyone that we do in our corner at Campbellsville to get that title!"
University of Tennessee
Knoxville, TN
2021 Final Ranking: 14th
The University of Tennessee is next on the list, as they are ranked 14th in the pre-season poll.
"It means a lot to us as a team to be viewed as one of the best 25 teams in the country. This is something we strive for each year," said Teddy Peznola, University of Tennessee angler.  "We have put together a good group of guys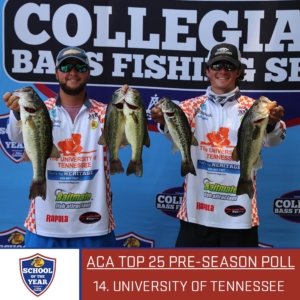 who compete at each event and we're proud of our successes recently. We have seen a huge growth in the interest in our team with new students joining and our growing fan base."
Tennessee has long been one of the mainstays in collegiate bass season.  The 14th place ranking in 2021 makes 10 straight seasons in which the club has finished ranked inside of the Top 25 in the Bass Pro Shops School of the Year presented by Abu Garcia.  Even given all of this success, UT-Knoxville has yet to win a School of the Year title.
"Our goal for this upcoming season is a top 5 finish in School of the Year. We have made a lot of adjustments over the summer to how we will operate as a club at the University," added Peznola.  "As a team, we have become a close group of friends that are all looking forward to this new season and all want to see our team be more successful than ever."
Look for this close team bond to propel Tennessee to another strong showing throughout the 2021-22 season, and if they can pull off a few top five finishes early in the year…it's possible that the team from Knoxville could be a threat to bring the title home in 2021-22.
Emmanuel College
Franklin Springs, GA
2021 Final Ranking: 22nd
One of the newest teams to crack the Top 25 during the 2020-21 season was Emmanuel College from Franklin Springs, GA.  The team cracked the Top 25 for the first time in school history by finishing 22nd overall.  This strong performance made an impression on the college fishing world as Emmanuel College received enough votes to secure a pre-season ranking of 15th in the ACA Pre-Season Poll.
Emmanuel College competed in its first-ever ACA event during May of this year by competing in the BoatUS Collegiate Bass Fishing Championship presented by Bass Pro Shops at Lake Murray in South Carolina.  Team members caught enough Lake Murray bass to help Emmanuel College secure a Top 25 finish and make history for their program.
The Emmanuel College Bass Fishing Team is led by Head Coach Pam Martin-Wells.  For some, this name may sound familiar.  Wells has long been regarded as one of the best female anglers in the sport.  Throughout her career, she has fished in major events all across the country, including the 2010 Bassmaster Classic on Lay Lake.
The young team has strong leadership in place to guide them through another competitive tournament season, and the needle seems to be pointing up as the 2021-22 season is set to begin. However, to get much higher in the rankings, this team will have to compete in more events to have a shot at a Top 10 ranking in the nation.
The Bass Pro Shops School of the Year presented by Abu Garcia, operated by the Association of Collegiate Anglers (ACA), is college fishing's only all-encompassing national rankings system.  Started in 2012, the Bass Pro Shops School of the Year awards points to student anglers for competing in a variety of events throughout the year, providing updated rankings for all college fishing teams and highlighting the Top 25 teams in the standings through a variety of media assets.  The list of events that comprise the rankings includes National Championships, major national-level events, regional trails, school-run events, and much more.  To find out more about the Bass Pro Shops School of the Year presented by Abu Garcia, click here.
https://www.collegiatebasschampionship.com/wp-content/uploads/2021/07/11-15-FEATURE.jpg
1000
1000
Kyle Curry
https://www.collegiatebasschampionship.com/wp-content/uploads/2023/03/2022_CBFS_JM-White-300x194.png
Kyle Curry
2021-07-21 08:00:54
2021-07-22 21:28:40
2021-22 Bass Pro Shops School of the Year presented by Abu Garcia Pre-Season Poll: Rankings 11th – 15th