2020 Championship: 2nd Place – Dunagan & Smith, Campbellsville University
SAN ANTONIO, TX (6/16/2020) – We've all heard this expression before, "You can't win a tournament on Day 1, but you can definitely lose it."  The theory behind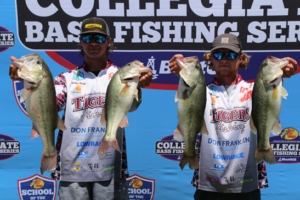 this is that though you can't necessarily win a two-day tournament on the first full day of competition, you can position yourself in an advantageous position to do so on the final day.  This is exactly what Bradley Dunagan & Dalton Smith did at the 2020 BoatUS Collegiate Bass Fishing Championship presented by Bass Pro Shops on Pickwick Lake.  Sitting in 26th place with 14.42 pounds after Day 1, the Campbellsville University anglers weighed in 20.21 pounds on Day 2 to finish in 2nd place overall.
"Going into day two we knew we were around the right fish to do really good and possibly finish really well," said Dunagan.  "Day one we were two bites away from having a pretty good bag."  Only five and a half pounds separated first place from 26th after Day 1.  For a team that weighed in roughly 14 pounds, they only needed to cull out two three-pound class fish with a pair of five pounders to be sitting in the lead.  "Going into Day 2 we knew we had a shot at winning," noted Smith.  "We knew we were around the fish to win and that every day we were getting fresh fish that were moving out."
Working a bar just off the main river channel on the lower end of the lake, Smith & Dunagan found a school of fish during practice that was moving on and off this spot feeding on shad.  "We had found several schools offshore in practice. All we did was graph," explained Smith.  "We picked out a section of the river (the lower end) and decided to break it down. We started the tournament and ended the tournament on the same school of fish."  The Campbellsville anglers did most of their damage with a shaky head, Carolina rig, and a deep-diving crankbait.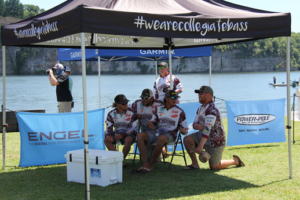 "After we weighed in, we were in the hot seat for what seemed like hours. We come into weigh-in early so it took even longer," explained Dunagan. Dunagan & Smith came into weigh-in early and set the bar for challenging teams to beat at around approximately 2:15 PM.  One hour later, the Top 5 teams from Day 1 finally came to the weigh-in tanks in a made for tv moment to crown a Champion.  The first four all came up short, but Day 1 leaders Fain & Kendrick edged out the Campbellsville duo by just over a pound.
"We did end up a little short, but it still feels amazing to get runner-up in such a tough tournament," added Dunagan.  "It was the first school-related tournament I'd fished since all the other tournaments had been shut down so it was nice to start the rest of the season out like that. None of this would be possible without the good Lord above and all our amazing sponsors at Campbellsville University." 
Dunagan & Smith earned a $2,500 cash prize for their efforts at Pickwick Lake.  They were also the highest-finishing Ranger Cup qualified team which paid out another $2,000 and secured them a spot in the next Ranger Cup University Team of the Year Challenge.
https://www.collegiatebasschampionship.com/wp-content/uploads/2020/06/IMG_9633_lo.png
345
518
Kyle Curry
https://www.collegiatebasschampionship.com/wp-content/uploads/2023/03/2022_CBFS_JM-White-300x194.png
Kyle Curry
2020-06-16 12:33:48
2020-06-16 12:33:48
2020 Championship: 2nd Place – Dunagan & Smith, Campbellsville University