From 15th to 5th Martin and Mize from the University of North Alabama Come Charging Back on Day 2 of the 2017 BoatUS Collegiate Bass Fishing Championship presented by Cabela's
The team of Nathan Martin and Austin Mize, from the University of North Alabama, were sitting in 15th place after day one of the 2017 BoatUS Collegiate Bass Fishing Championship presented by Cabela's. Just like any other tournament, they did not let that get in their heads heading into day number two, and ended up bringing in one of the biggest bags of day two with 21.73 pounds. With the help of a giant 7.76 pounds Pickwick Lake monster bass in their bag, Martin and Mize moved up into 5th place. Let's see what these two had to say on the event itself and what they did on the water to earn their 5th place finish.
 How did you guys catch them?
 "The key to our success was using our Lowrance HDS Gen 3 12 to locate fish out on deep structure and ledges. In practice, we found a lot of schools, but a lot of them moved after practice. Being able to see exactly what was down there allowed us to not waste any time on the schools that had been spooked," replied Nathan Martin.
 "After they fired, we would alternate between a Big Bite Baits Suicide Shad', Jenko Swimbait and a 1/2 oz Football-head jig paired with a wacky rigged Big Bite Baits Trick Stick as the trailer," said Austin Mize.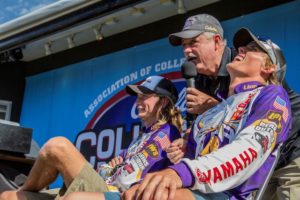 Any key move or decision you made that allowed you to find success?
 "We milked 3 schools throwing the 5.5 perfect head True Bass Swimbaits paired with the 3/4 oz true lock swimbait heads. We also used a Big Bite Baits suicide shad, and a Jenko swimbait. When the schools would quit firing we would follow up with a drop shot and 1/2 and 3/4 oz football jig," said Nathan Martin.
"The dropshot was the key to our success getting the schools fired up and feeding," continued Austin Mize.
What you felt about your experience during the week?
"Championship Week is always a great time and being here in Florence is always fun for us as we go to school right here. The ACA always puts on a great event and always is a highlight to the year," said Nathan Martin.
"From Yamaha night to the final day weigh-in, this is always a awesome event. We are grateful to have the opportunity to compete against all of the other schools," replied Austin Mize.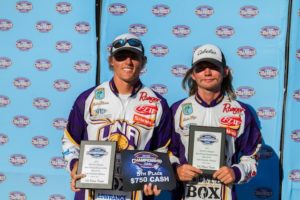 Anyone you would like to thank?
"We'd like to thank Boat US and Cabela's for putting on such a great tournament, Florence-Lauderdale Tourism for sponsoring our team and providing such a great venue, all of our other sponsors, and our parents for supporting us," said Nathan Martin.
"I'd like to thank the Florence-Lauderdale Department of Tourism and Suzie Shoemaker for bringing this tournament to Pickwick and also I'd like to thank the men and women in the armed forces for making it possible for us to have the freedom to do the things we love," said Austin Mize.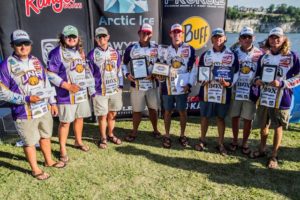 https://www.collegiatebasschampionship.com/wp-content/uploads/2017/06/UNA_1.jpg
3456
5184
Amanda
https://www.collegiatebasschampionship.com/wp-content/uploads/2023/03/2022_CBFS_JM-White-300x194.png
Amanda
2017-06-09 16:30:01
2017-06-09 16:30:01
From 15th to 5th Martin and Mize from the University of North Alabama Come Charging Back on Day 2 of the 2017 BoatUS Collegiate Bass Fishing Championship presented by Cabela's